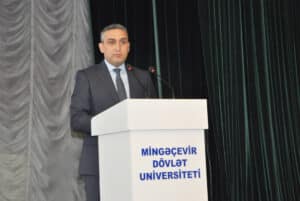 Dear friends! 
Located in the fourth largest city of our country, Mingachevir State University (MSU) is a higher education institution that carries out the mission of preparing highly qualified specialists and comprehensively developing young people. The slogan of our university "modern education, right choice and successful career" is based on this mission. 


All the activities at MSU, taking important steps towards the strategic goals of becoming a university of the new era, providing higher education services at the level of leading universities of the capital, contributing to the sustainable development of our country, including the region, are in line with the development trends observed in the national and international higher education space, new challenges that have emerged and are implemented taking into account the realities. 


In recent years, MSU, which has embarked on the path of development in new content, has provided a favorable educational environment that provides conditions for the comprehensive development of students and educators. In addition to acquiring modern knowledge and skills, main importance is attached to the education of young students based on national and moral values and in the spirit of patriotism, development of research, creativity and other abilities, promotion of start-up activities and involvement in university management. 


Aiming to further strengthen its position in the national higher education space and become a driver of the regional innovation ecosystem, improving the quality of personnel training in accordance with the requirements of the modern labor market, strengthening the research and innovation potential, expanding and renewing the existing infrastructure and material and technical base, development of mutually beneficial cooperation with local and foreign universities , increasing the efficiency of cooperation with private and state institutions constitute the priority directions of action.
 
Currently, personnel training in economy, engineering and educational profiles is carried out in our University. MSU, where more than 3500 students and masters study, employs more than 300 employees, including about 220 faculty members. 


Dear friends! 
The experienced and dynamic staff of our university is always ready to walk with you and serve your development, with the experiences that add value to the society and the continuous search for quality that has become a corporate culture. Therefore, we are pleased to invite you to MSU, the address of the educational ecosystem that supports science, innovation and entrepreneurship. We believe that the MSU family, which is currently growing both quantitatively and qualitatively, will become stronger with your participation and contributions. 


Welcome to our university! I wish you all the best! 


Shahin Bayramov,
Rector